Community and school-team coaches… they are volunteers that too often are not appreciated nearly enough. My children are currently finishing up another round of sports before a new one starts. They play a number of sports, so move from one sport to another depending on the time of year it is. We have been blessed with some fantastic coaches! This year has been particularly great… so much so that it has me reflecting on all of the positives that come with having our children coached well. Here is a tribute to all of the great coaches out there! Thank you, coaches!
Thank you for volunteering your time… time spent planning practices and also time spent at each of the practices and games. Thank you for always showing up even when some of the kids don't. Thank you for your commitment to developing not only better players, but better people as well!
*Disclaimer: This post contains affiliate links, meaning I make a small commission on purchases made at no extra cost to you. Thank you for your support!
Here is a list of some of the areas our children have grown in and/or learned because of you:
Increased Resilience:
Let's face it. Not every practice and game is easy. Our kids will be challenged. That's okay. Pushing them to work through the difficult times, pick themselves up and spring back builds resilience. As much as I'd like to be, I can't always be there to help my kids work through every difficult moment in their lives. Providing opportunities in which they need to be resilient helps our children to also be resilient in other areas of their lives. Thank you!
Learning to Celebrate Wins and Overcome Losses:
In games, there are winners and losers. Our kids will not win every game. Losing a game does not mean our kids are losers. It just means that they lost a game. Wins in life are a time to celebrate. Losses are a time to reflect upon, learn from, and work through. Winning builds confidence and losing builds resilience. Our coaches are there to teach our kids to celebrate those wins and to overcome those losses with sportsmanship and class. Thank you for helping our children learn to not only celebrate the wins, but to overcome the losses!
Striving to Beat Personal Bests:
In sport, winning is not just winning a game. Our kids learn to celebrate their own personal wins. Perhaps it is a personal fastest running time or their farthest baseball hit. Maybe there were more solid passes, assists, or personal goals scored than ever before. Either way, our kids learn to challenge themselves and strive to do and be their personal best. Thank you, Coaches, for building this attribute in our children!
Increased Confidence:
Each of my children experience times where they struggle in their chosen sports. There are strike-outs, shots that do not result in points, and times where they are beaten in a play. However, coaches continue to encourage them and to believe in them. Being part of a team provides children with a sense of belonging… one that is fostered by their coaches. Our children learn to consistently become involved in the plays and to keep up. This increases their confidence and stamina. Thank you for continuing to believe in our children and for helping to build their confidence!
The Importance of Cooperating with Others:
Through sport, our children learn to share the workload and to work together to achieve a common goal. The saying, "There is no I in team" is true. Learning to pass to others is essential since a pass will almost always get the ball or puck to its destination faster than trying to do everything oneself. Children need each other on a team and have to learn to work together, regardless of skill level, in order for the team to function optimally. Thank you for encouraging and teaching our children to cooperate with one another!

Assertiveness:
Let's face it! No parent wants their children to be walked all over. Coaches and sports teach our children to be assertive… not aggressive, but assertive! Our children learn to confidently go for what they want and work in an attempt to force it to happen. Thank you, Coaches, for teaching our children to be assertive… to know when to go for things when working toward an outcome and also when to back off!

Positive Self-Talk:
Momentum is huge in sports as it is in life. When things are going well, they generally continue to go well until there is a sudden change in momentum. When things are not going well, it is important for our children to continue to be kind to themselves and learn to shake it off and use positive self-talk. Thank you, Coaches, for teaching our children to give themselves positive messages to overcome any challenges they may be facing!

To Have Fun Regardless of Stats:
Sports are meant to be enjoyed by the players. Each of my children has had seasons with many wins and others with many losses. They choose to continue to play because of the fun they are having. Thank you, Coaches, for encouraging our children to play for the love of the game rather than to play for the wins!

The Importance of Communication:
Our children learn that it is imperative that they communicate with others when in games. They learn to communicate when they are open or when they see an opportunity in the game. They share in the joy of a win and experience the toughness of a loss together, communicating with each other throughout. Thank you, Coaches, for helping our children see the value in communicating with one another!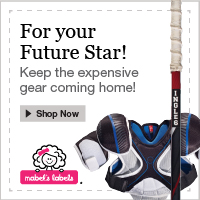 Learning to Celebrate Others:
My one daughter plays hockey with both boys and girls. There is a golden jersey for one player who plays particularly well given after each game. The player then keeps the jersey until the next game when it goes to another player. When my daughter came out wearing this golden jersey after one of her games with another player who I thought also had an excellent game, I said to the other player, "I thought you were going to get the golden jersey this game. You had a great game!"
His response? He smiled back and exclaimed, "Oh, no. I knew your daughter was getting the golden jersey today. She played awesome!"
There was no resentment. There was no jealousy. He was happily celebrating the success of another player.
My kids get excited about not only how they play, but how others play as well. I personally love watching athletes congratulate each other! This is behavior fostered by our coaches. Thank you!
How to Take Constructive Criticism and to Learn from Mistakes:
No one is perfect. Everyone makes mistakes. Our children are given constructive criticism when playing sports. It is not about tearing them apart, but about building them up and helping them to improve and develop into being better than they currently are. Our children will also receive a lot of constructive criticism throughout their lives. Thank you, Coaches, for helping our children learn how to take constructive criticism and helping them to know that the goal is to help them improve rather than to tear them down.
How to Work with Various Personalities and Skill Levels:
On any given team, our children are amongst others. Some are more skilled players than they are. Others are less skilled. Some are kind no matter what. Others are not. Our children need to learn to work through differences and still claim their place on the team.

A few years ago now, I showed up early to pick up my son from his high school football practice. What I saw impressed me. The team was working on a brutally challenging drill. Some of the team members could work through it and others were really struggling. What impressed me was as the team members completed the drill, their job then became to go and personally encourage, cheer, and provide water for another team member that was struggling to complete the drill. This continued until every teammate worked through it.
Thank you, Coaches, for helping our children learn to encourage each other and to see the good and appreciate the skill levels and personalities of each child on the team!
Appreciation for Living an Active Life:
Kids with positive coaching experiences tend to want to continue playing sports and living an active lifestyle. My children haven't enjoyed every sport they've played. However, they have enjoyed being active and gained an appreciation for all sports whether or not they enjoy playing a particular one themselves. I personally love the fact that my children enjoy being active. Living an active lifestyle is nurtured by great coaches. Thank you!
Sportsmanship:
Good coaches encourage our children to treat each other fairly not only when in competition, but when the game is over as well. Our children learn to respect the other competitors and to follow the rules of a game. They learn to take pride in their wins and to accept their losses. Thank you, Coaches, for helping our children learn the important life skill of being a good sport!
Looking for a Gift for Your Favorite Coach?
Check out the great items below!
How About You?
Have you or your children had any great coaches that have helped to develop valuable attributes or life skills? Did I miss any areas that a great coach helps our children to develop in? Let me know in the comments below! 🙂